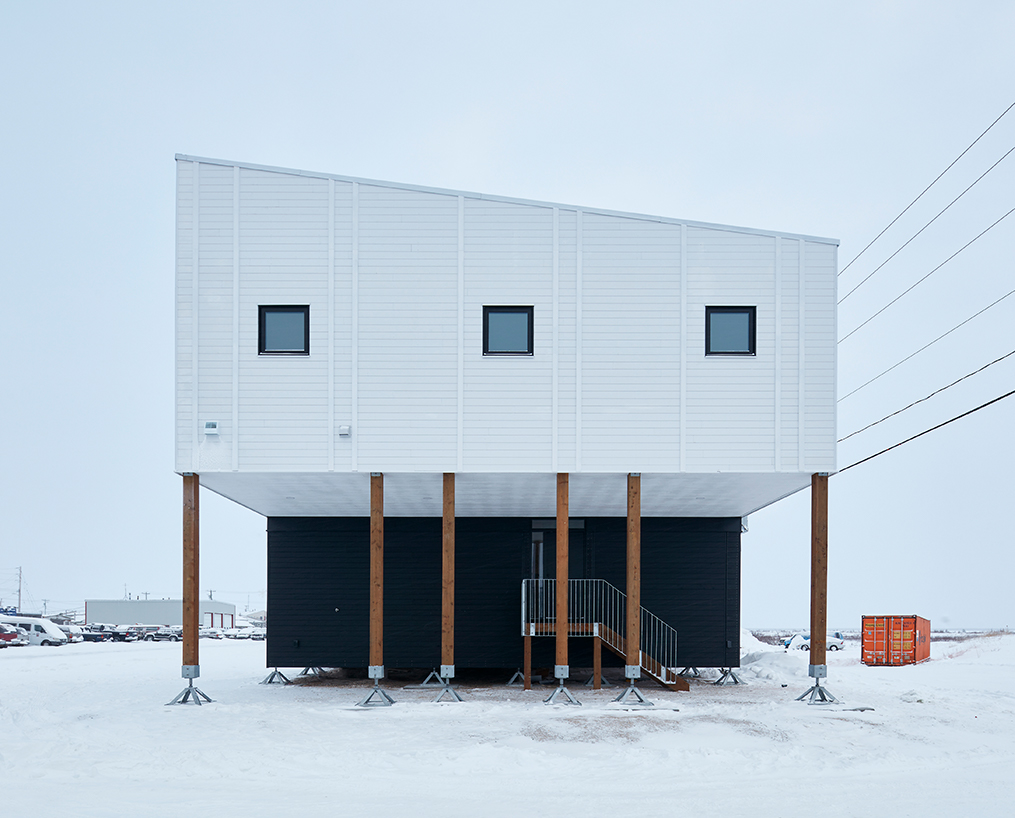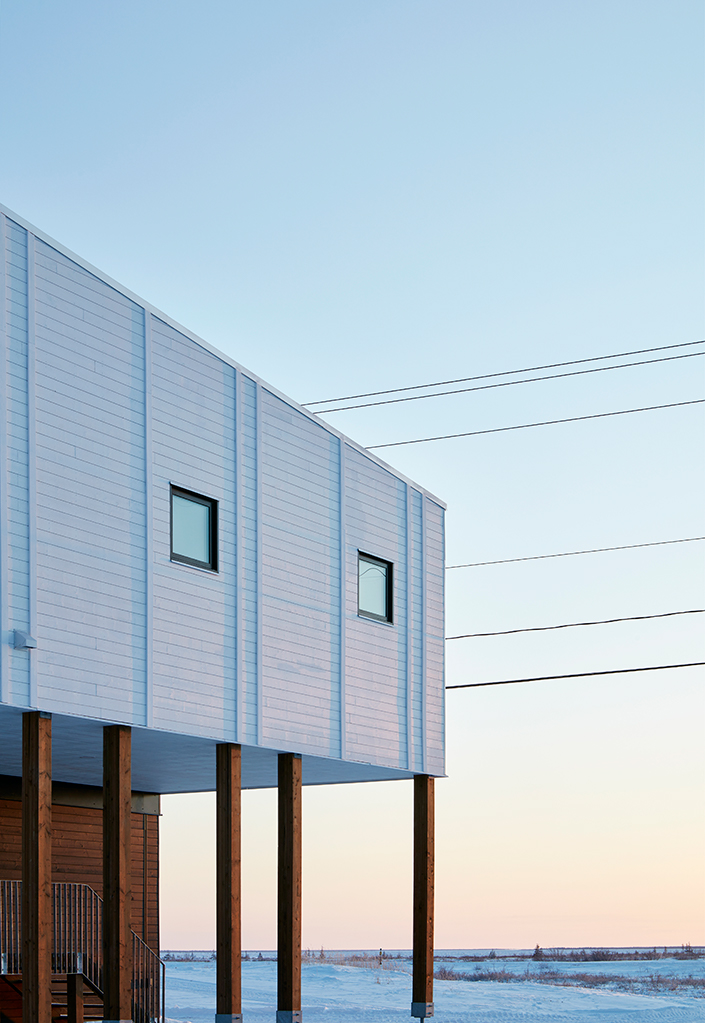 Churchill PBI Basecamp
This project, affectionately named PBI BASECAMP is one of the best examples of HOLZ'S CUSTOM PREFAB capabilities. The client reached out to us in December 2018. A one page sketch was sent to us for pricing, and 2 months later the Clients and Architects flew in from Bozeman and Montreal, and around the big table in the middle of our office we officially started the project.
Shipping logistics, unstable site conditions and Churchill's extreme wind and cold were going to be a challenge. We flew to Churchill and formed the project team; local owner representatives, the lumberyard, head of the rail line, and local construction experts.
Holz and the Architects collaborated on a stunning design that prefabbed well. The design was completed in June, and panels and PODS were built in the HOLZ Shop. PODS were fitted with shower tubs, cabinets, plumbing and light fixtures, furnaces and water tanks.
Walls, floors and roof were panelized flat; insulated, with windows, doors, exterior and interior finishes mostly installed. The Baltic Birch was our suggestion. It allows the building to move and not reveal cracks. Plus is provides a warm feel in a place that is so very cold.
BASECAMP shipped out by shrink wrapped semi in July, and the trailers were loaded onto a train in Thompson, and driven off in Churchill. In August, BASECAMP went from first panel to last panel in 13 days, and ready for the client in November, less than 11 MONTHS from the first communication.
Building BASECAMP is a story of how shared values and trust allow a complicated, beautiful and remote project to be built quickly and on budget.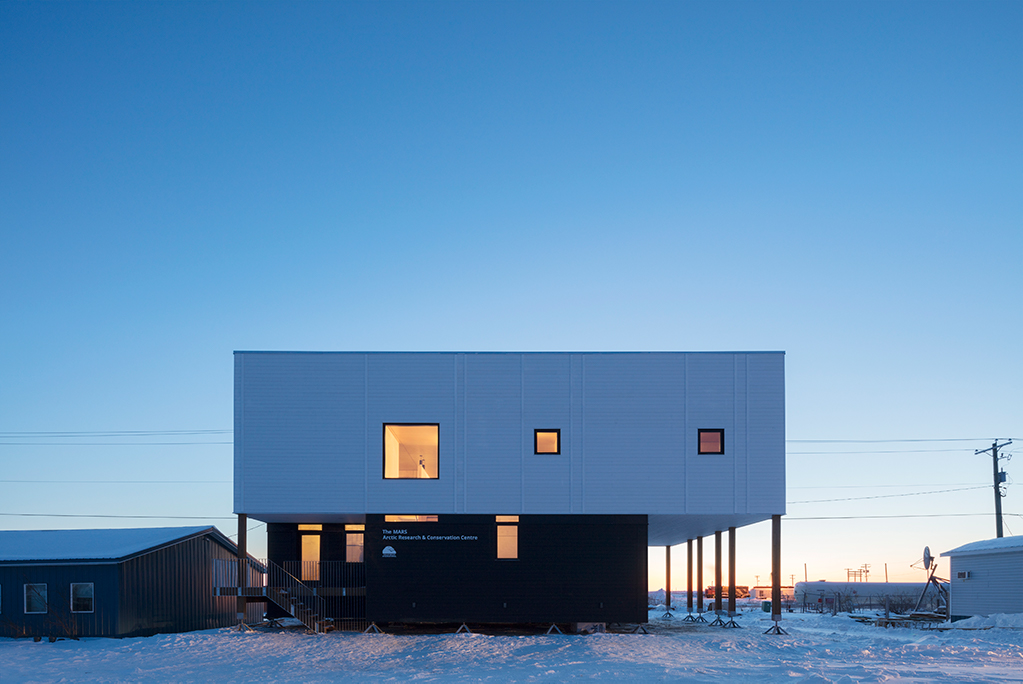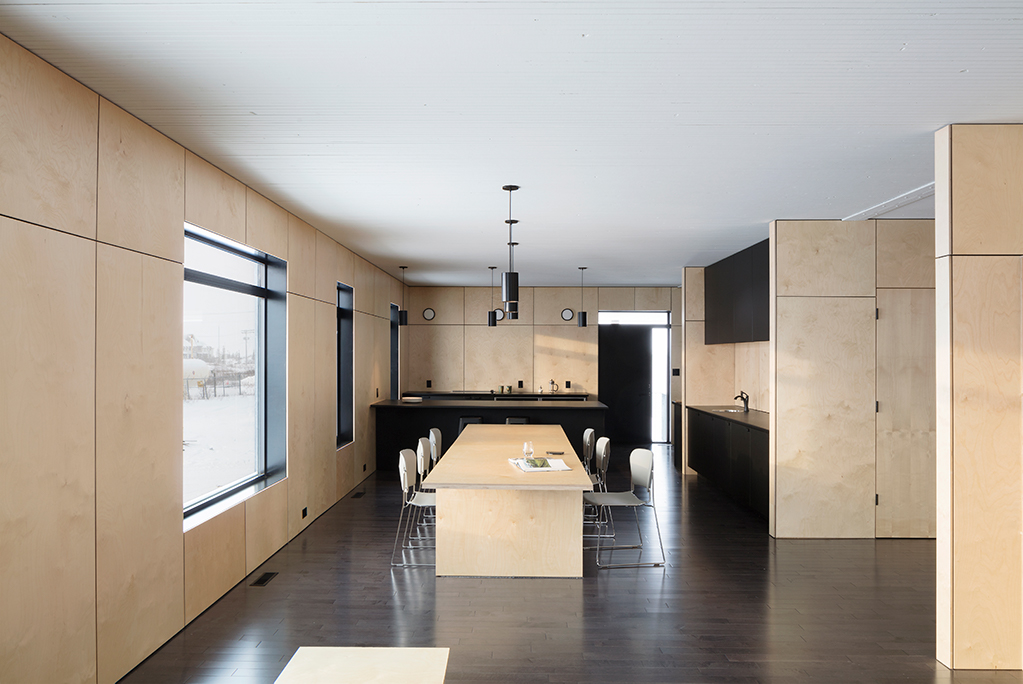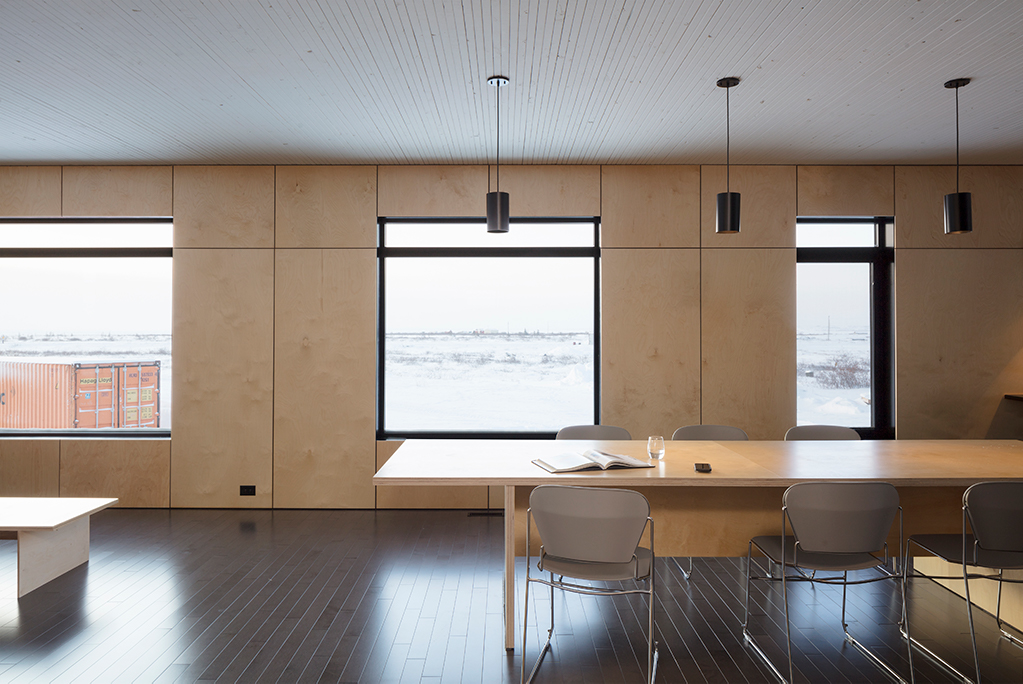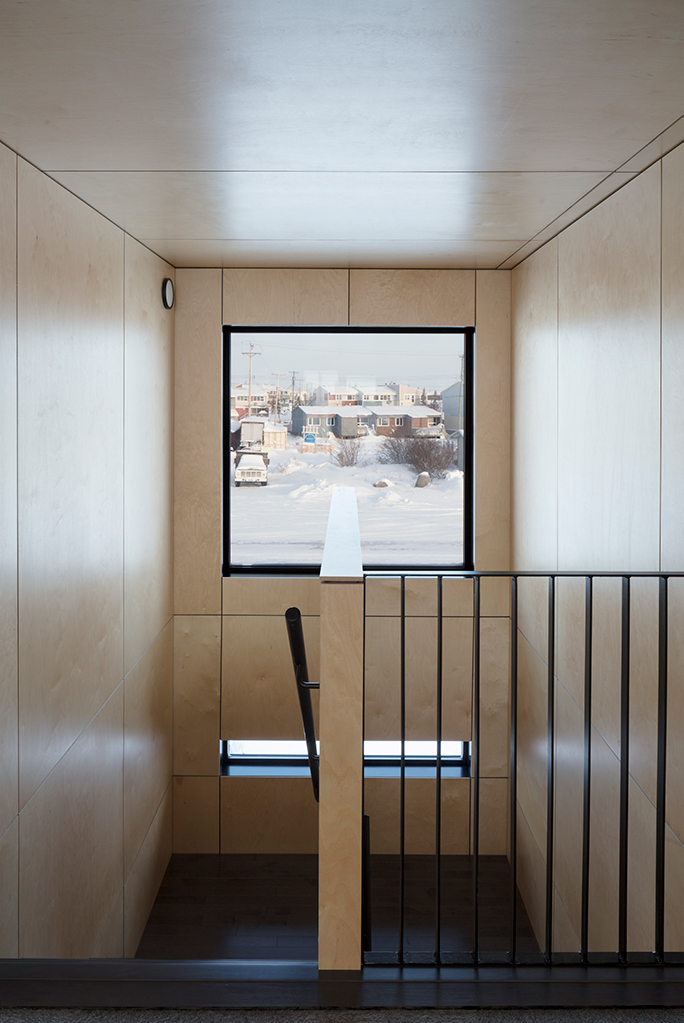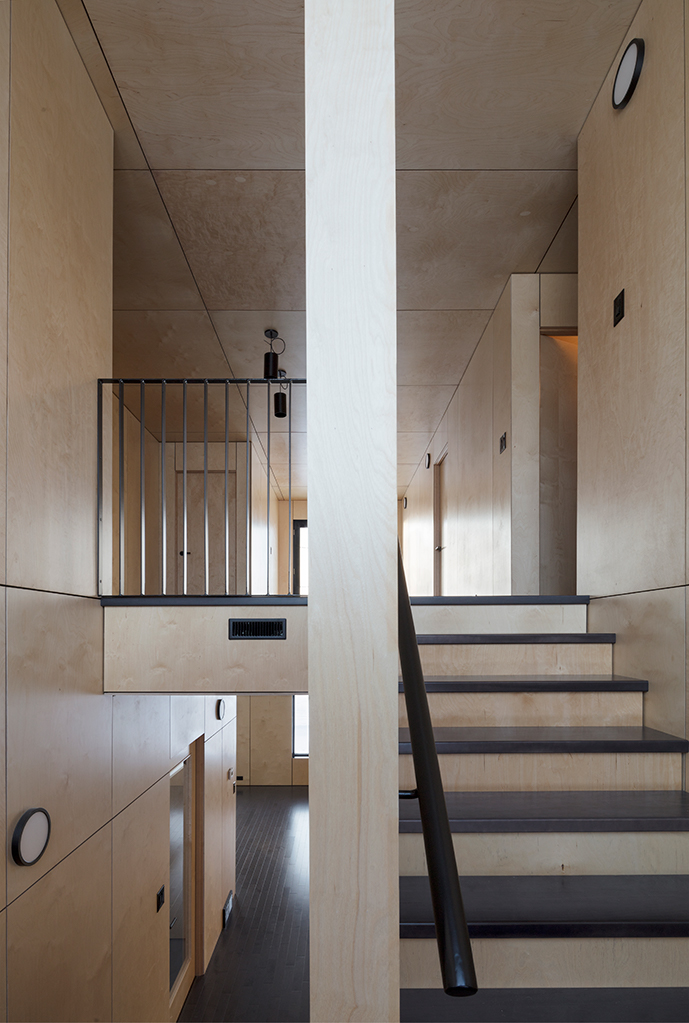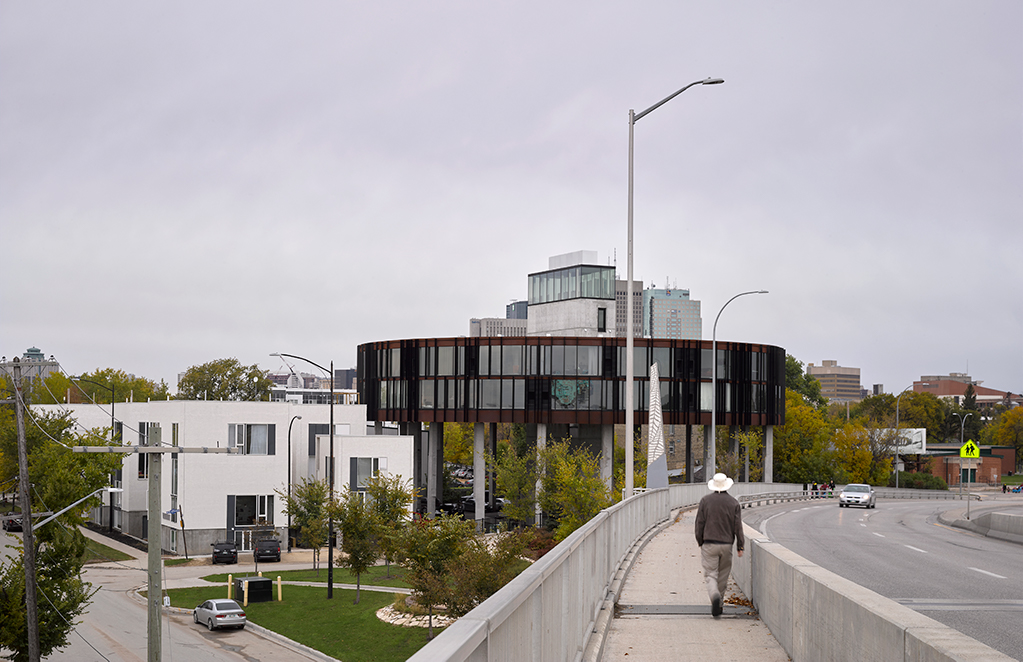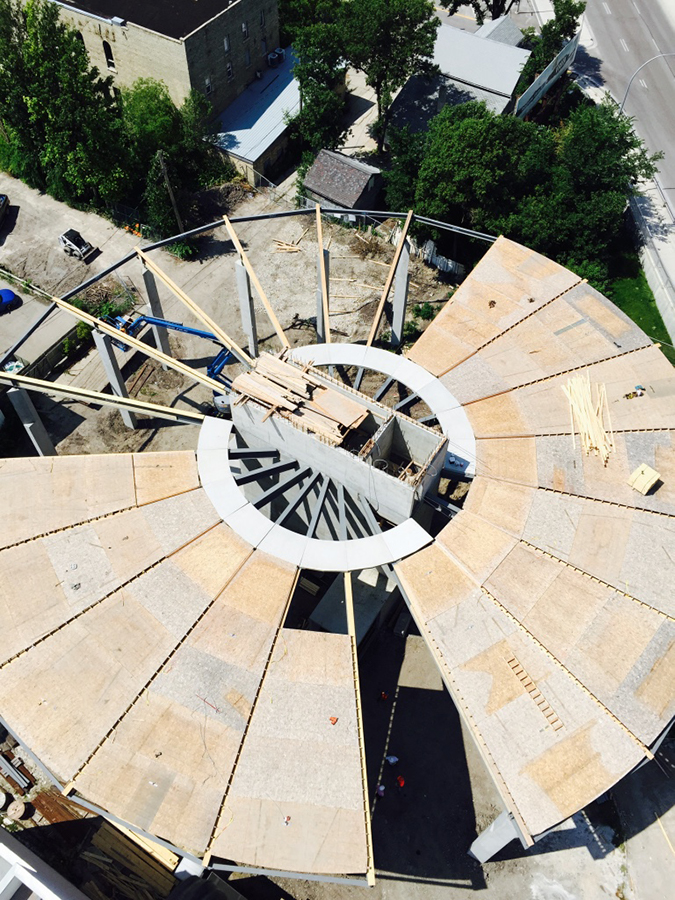 62M
Holz was asked to figure out a way to get 62M built when budget constraints on this stunning design prevented it from proceeding. Owner, architect and Holz all on the same team. 62M has become internationally recognized for architectural design.
This 41 suite elevated disc is set 30 feet high on a grid of 20 concrete columns, only 4 of which are simple rectangles. Like a knife cut radiating from the middle of a cake, selective slices of concrete were removed in the forming stage. Holz cast these columns in our shop and in a coordinated effort with the steel contractor, installed the columns and spoke in one week. 2 columns that did not meet our quality assurance program were cut up and used as parking stops or benches.
Also by Holz is the exposed concrete elevator shaft, prefab wood walls and floors, precast corridors, and the exterior metal cladding, soffit with black fins.
While we prefer to work with wood, we certainly are able to work with many material types, especially when we get to be part of projects that seem out of this world.
Images courtesy of James Brittain.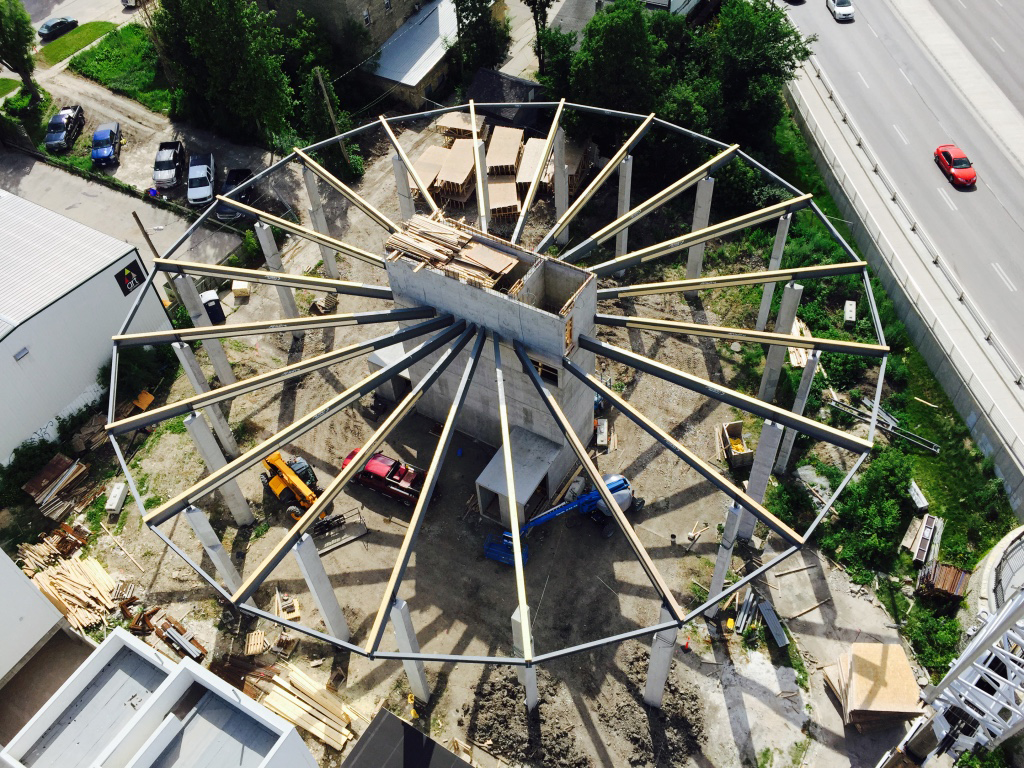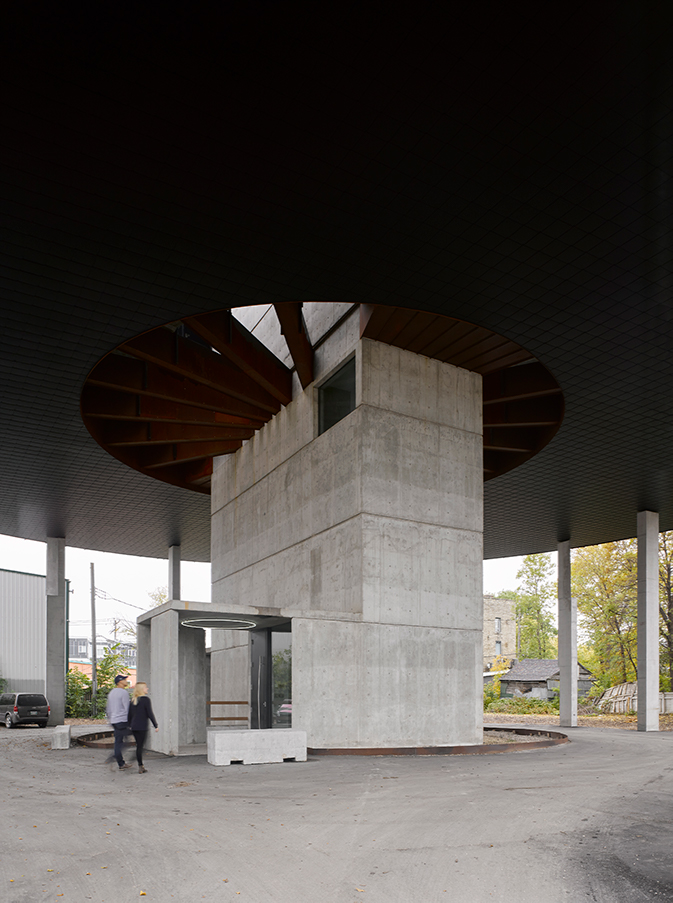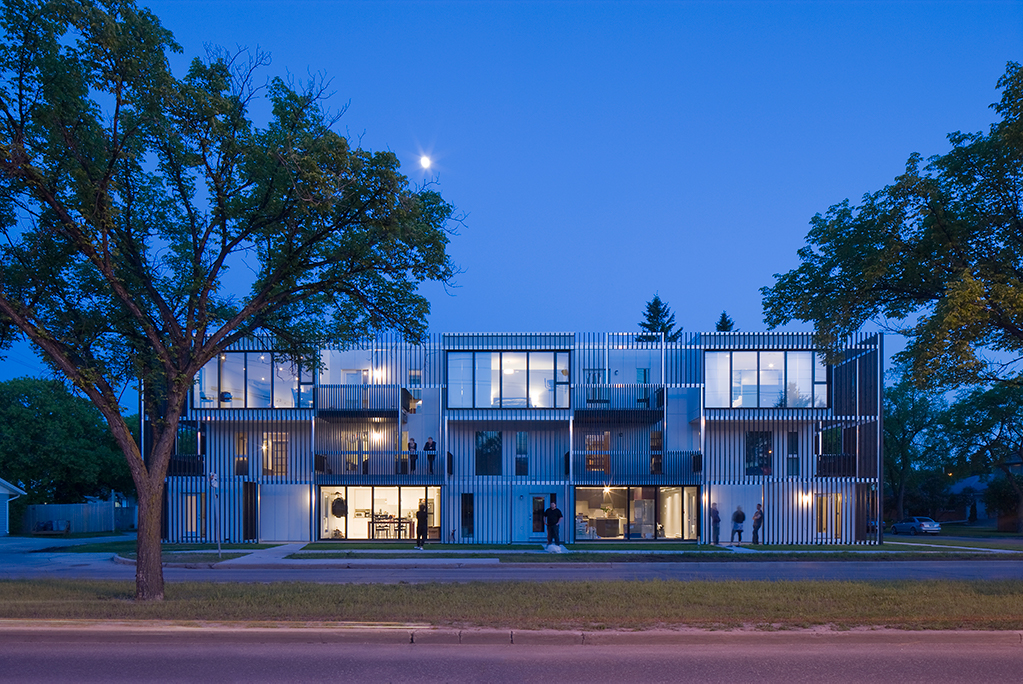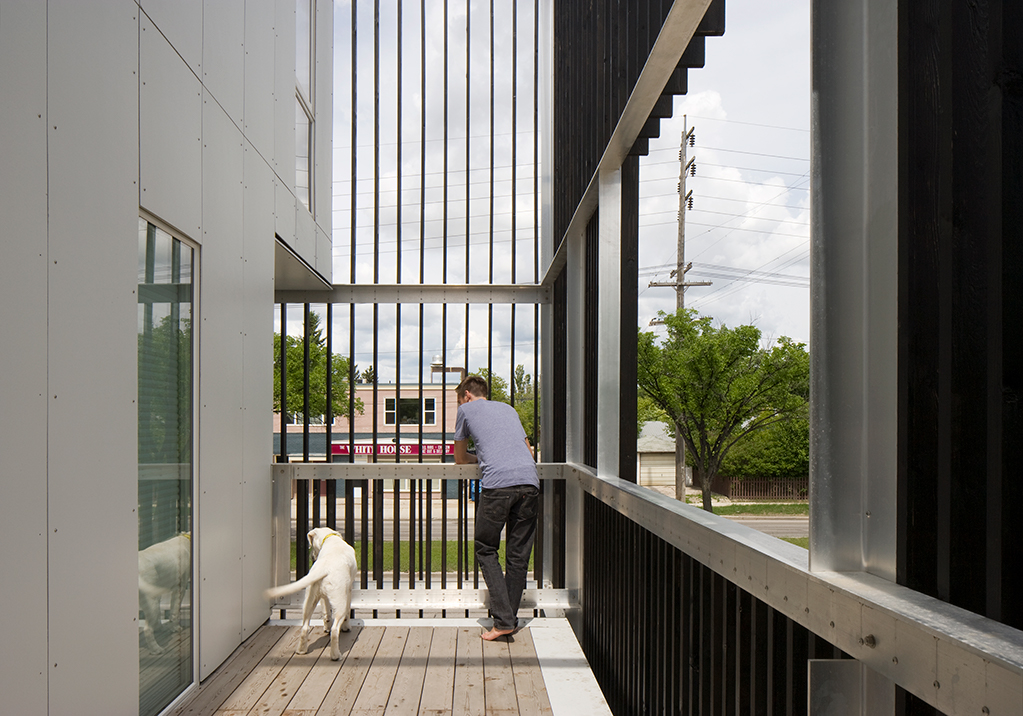 Bloc_10
Bloc_10 nudged Holz further in the direction we wanted to pursue as a company. We installed the cladding and cedar for Bloc_10 on site, but began to develop a prefab process where we now install the envelop system in our shop. It was also pretty fun to go to Ottawa with the architect and developer to celebrate one of the many awards this project has garnered.
546879 Architecture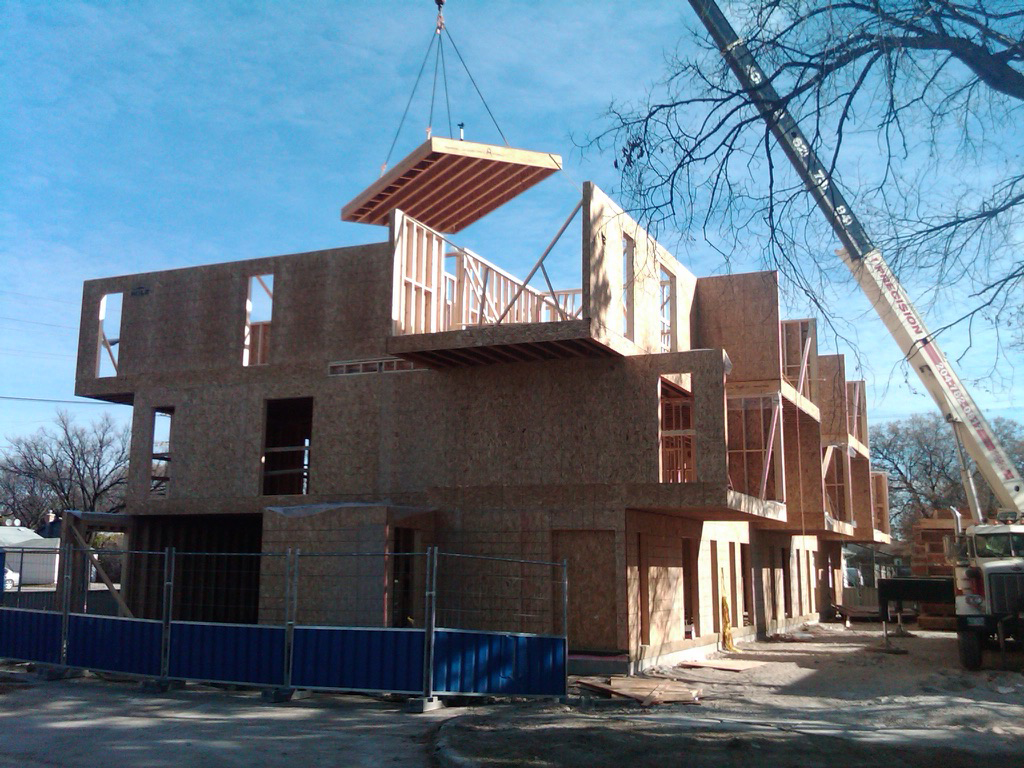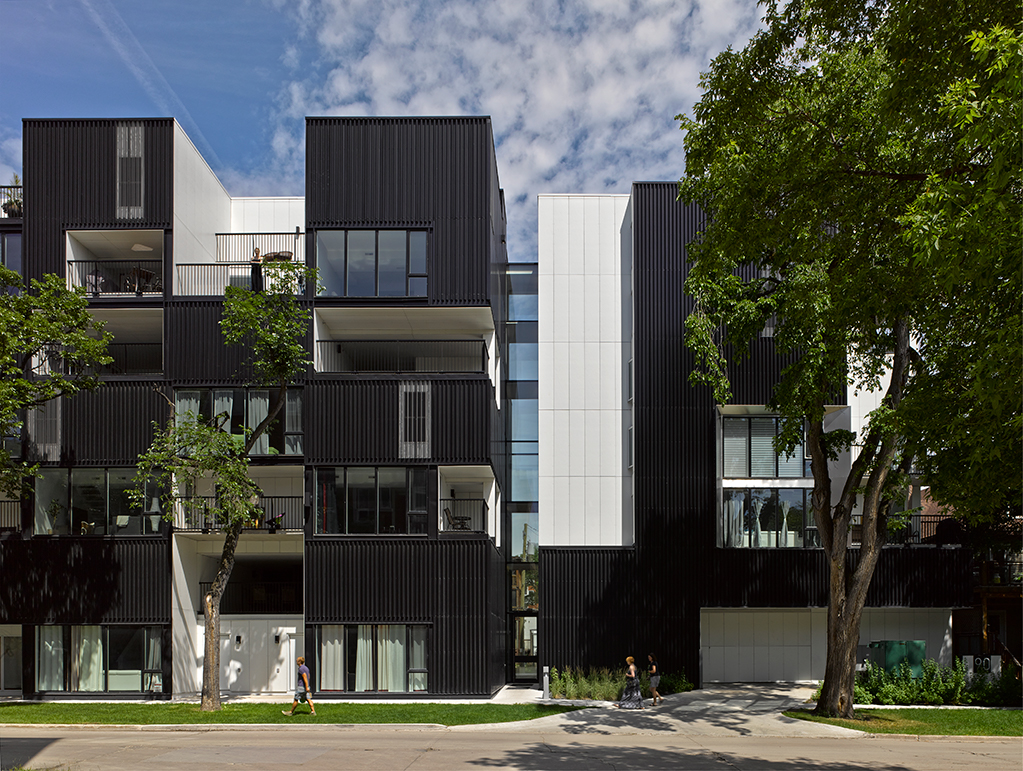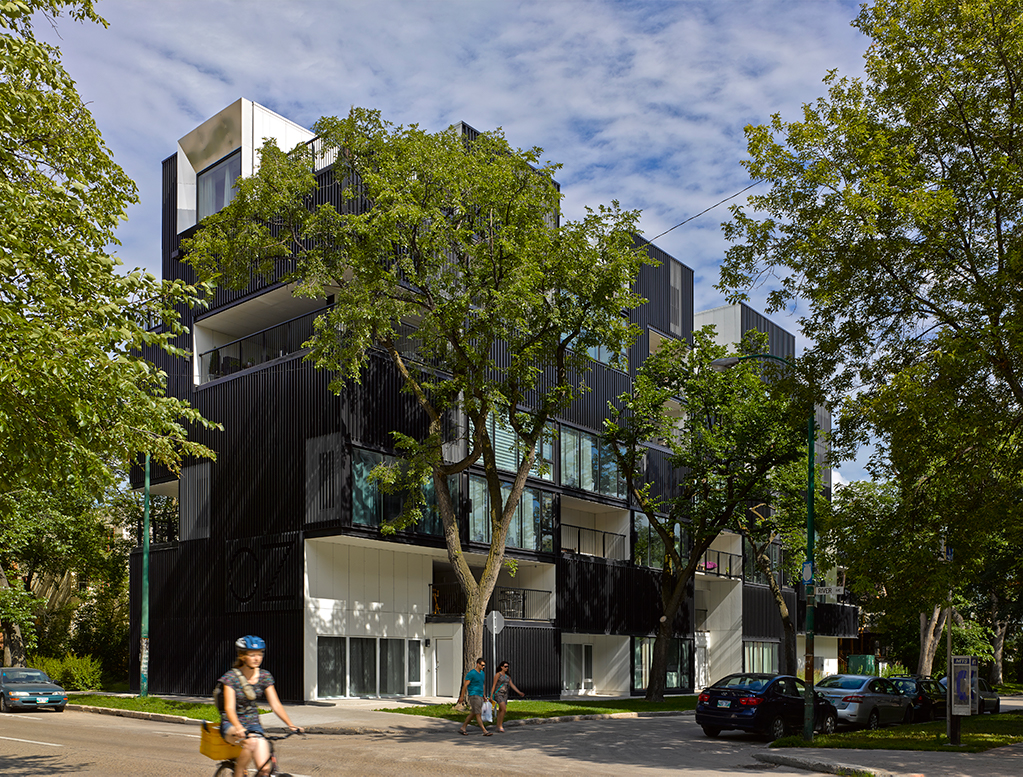 OZ
Holz installed all siding and exterior wall framing on this project.
882
This 3 POD house (Living, Parents, Kids), from first prefab wall to last roof panel, was set in about a week.
The owners moved in about 4 months after that.
The intent was to respect and tread lightly on the land, so the house was positioned around 3 very large trees and designed to embrace the natural contour of the land. Other design goals were to remain under the square footage of the original house, connect the street in front with the river in the back, and have no steps from street to anywhere in the house. The owners plan to live in the new house until life kicks them out. 546879 Architecture was able to pull it all together.
The LINK is the connector of people and the landscape. 2 large doors fold open and connect the link to the outdoors. The link is a cozy spot to enjoy a morning coffee as people canoe or walk by, or can be livened up as a music room, or become a gathering spot for 35 family members around one very, very long table.
The grade level deck connects the old to the new. It's supported by the foundation of the original 882. A steel rail from an old train line holds the deck up. The 2 daughters who grew up in the original house told us that. Upon hearing the house that their father Nick built in 1940's was recently demolished (river soil conditions caused major shifting), they stopped by, shared some stories, hugged the same big trees from childhood and shed a few tears.
They figured Nick would have loved the new 882.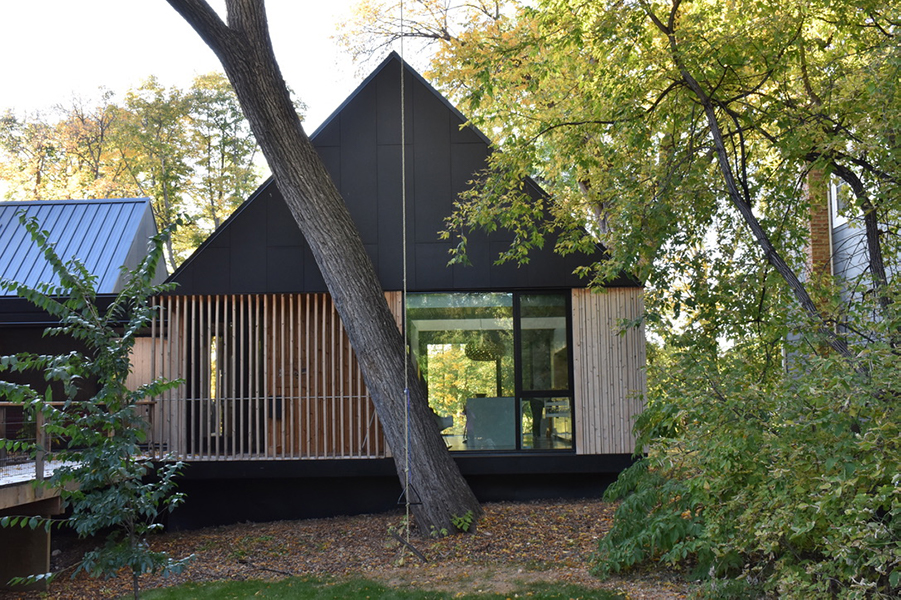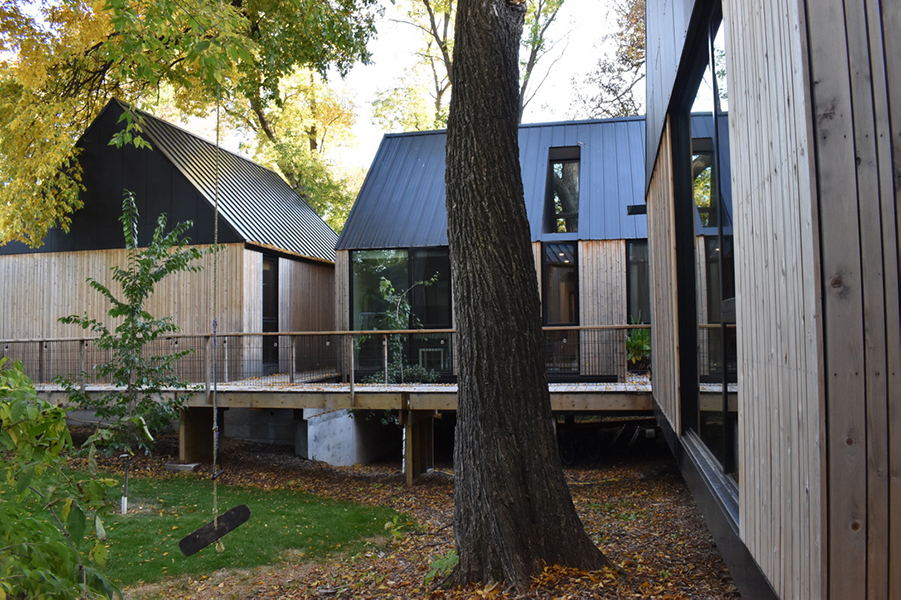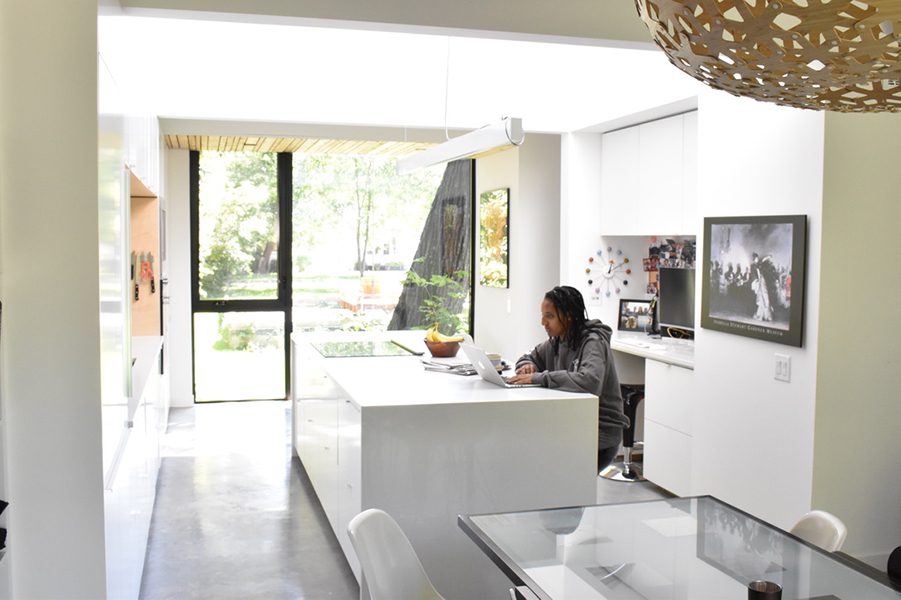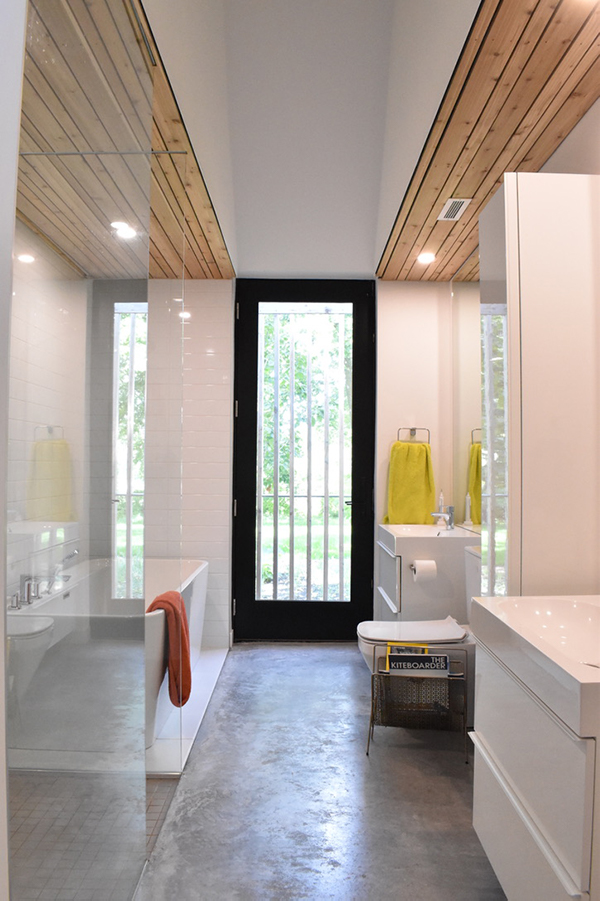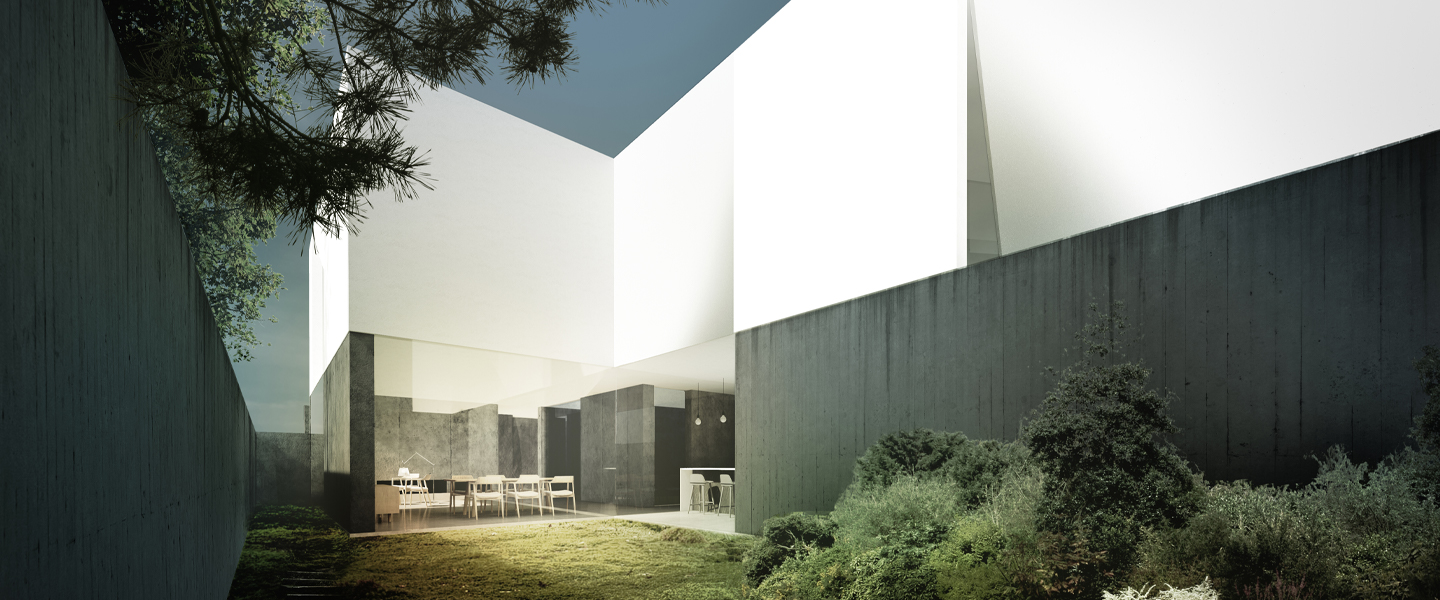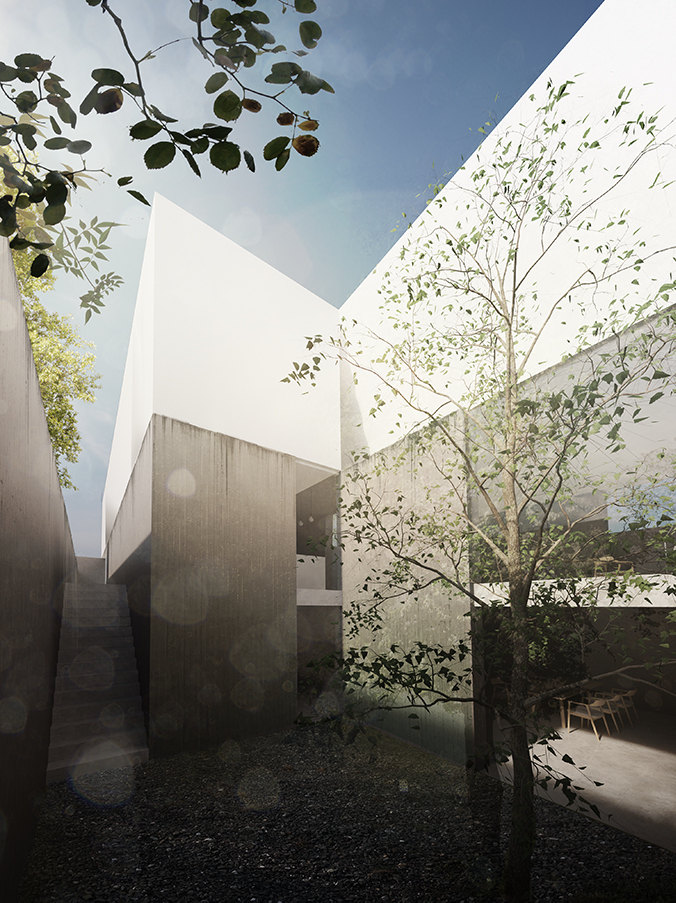 Arthur Residence
This house won an award at the World Architecture Festival in 2016. We prefabbed many elements of it
in Winnipeg and installed it in Regina. It was one of the few times we set it up and test fit the curves in
our shop prior to shipping it out.
We also installed the concrete. Both sides of the concrete were exposed, so tie hole locations and finish
were extremely important. Insulation was sandwiched between the two concrete faces.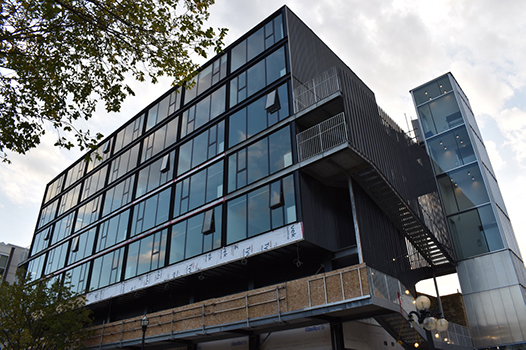 James Ave Pumping Station
This modern building is built with some very old school wood framing systems, just in a new school way. Similar to many of the century old buildings in The Exchange District where it is located, the floors are Nail Laminated Timbers (NLT), except The Pumphouse panels were built in our shop, not on site. We are now using this heavy mass timber technique for many of the new projects we are undertaking.
Holz also cast all the concrete walkways in our shop and installed the windows into walls into our shop.
We are looking forward to building the next 2 phases, where we will improve our systems, including building the bathrooms as PODS.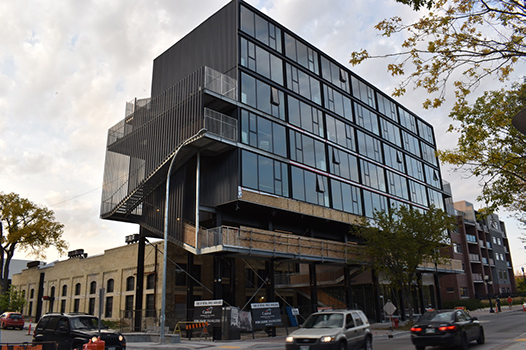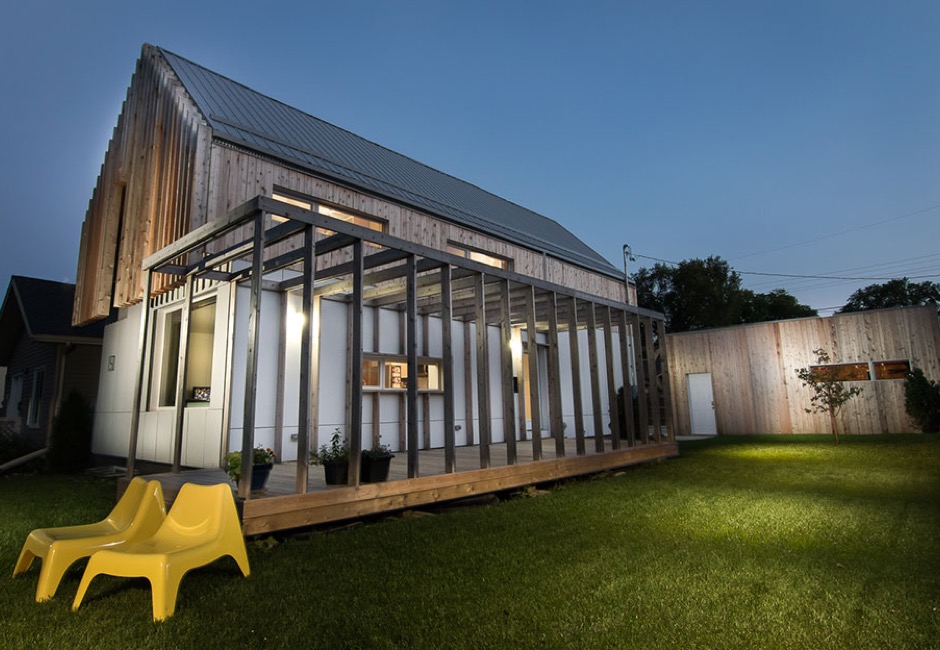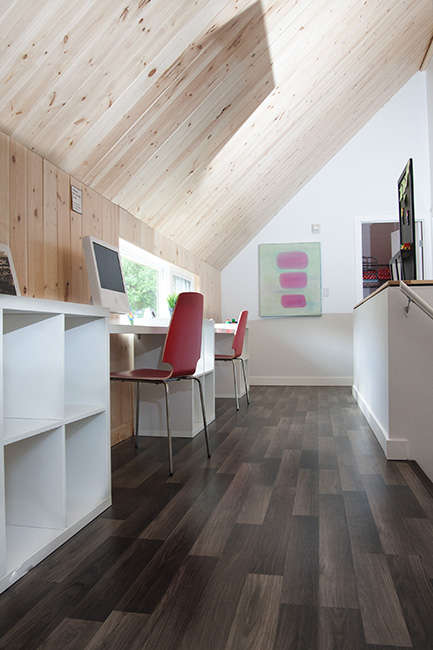 The Greene Model
Factory built, flat-packed and installed in a day.
Even on a cold winter day, the welcoming side entry, the exterior cedar and detached cedar clad garage create a cozy side yard (nice place for an ice rink), and set the stage for the warmth found inside this four bedroom house. Soaring, natural wood vaults, a tiny loft for the kids to play in, a hallway wide enough to be an office or host a great party…like the new owners did. 70 people with room to spare in 1,500 SF!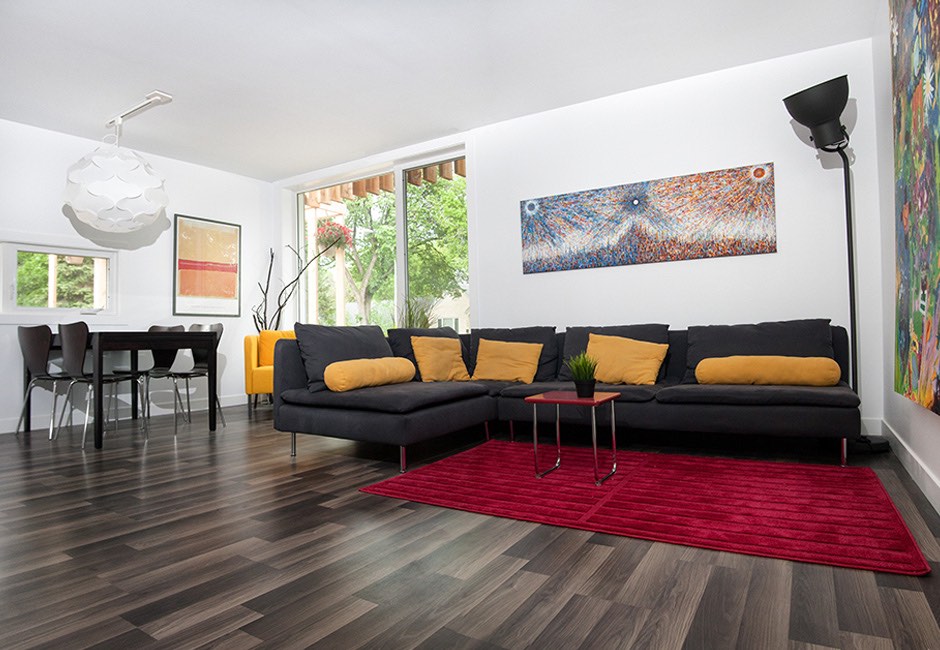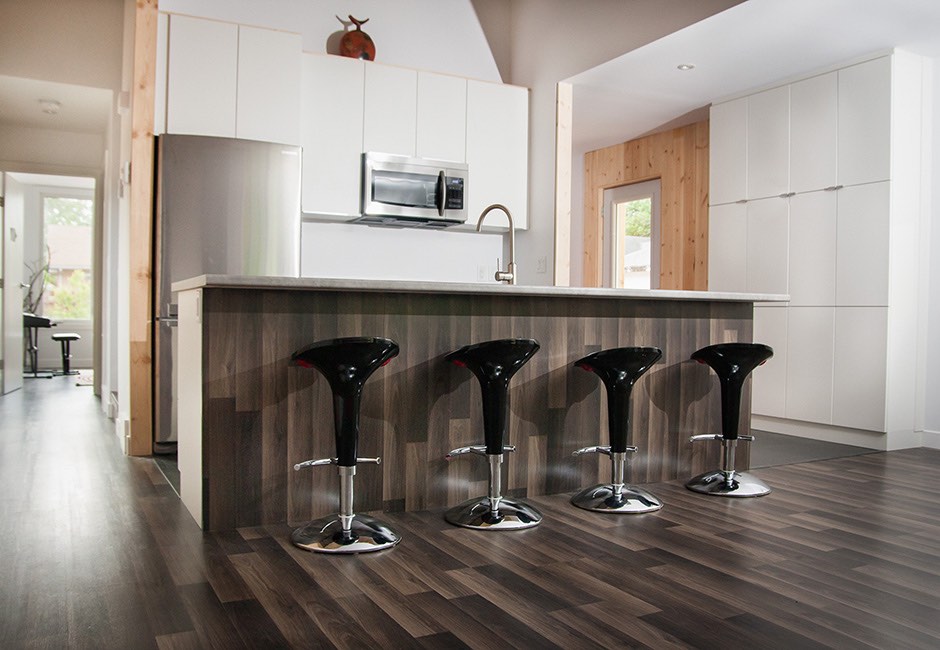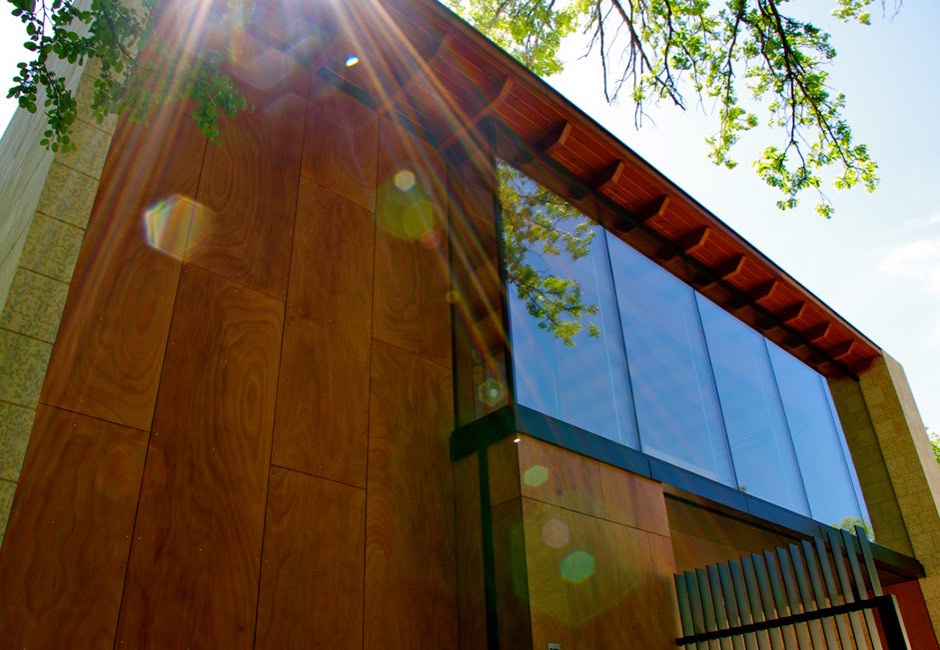 G House
Quite simply, one of the most spectacular houses we have ever built. Holz installed all wood framing and Cembonit and Prodema siding.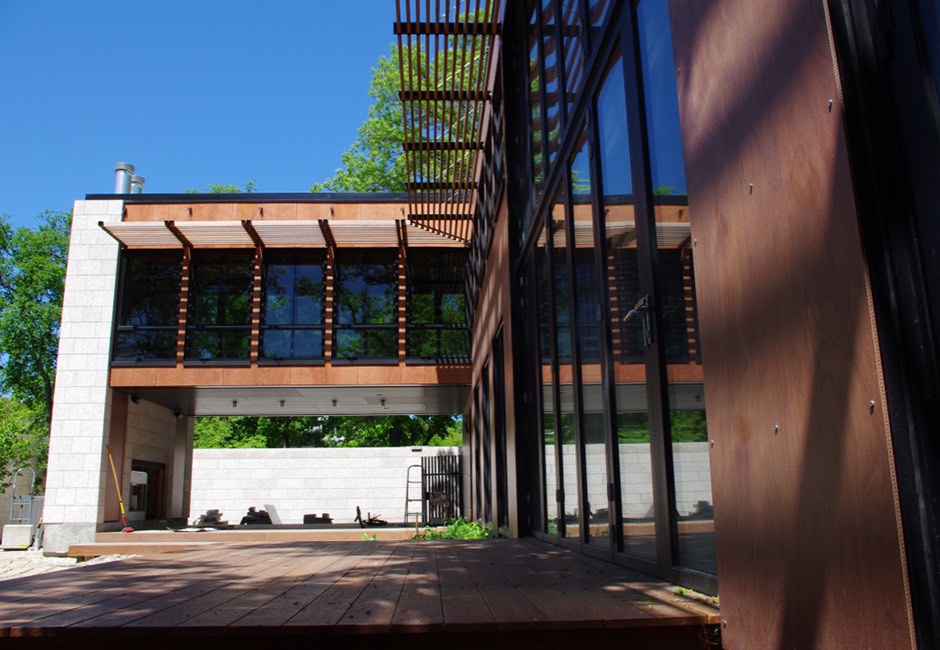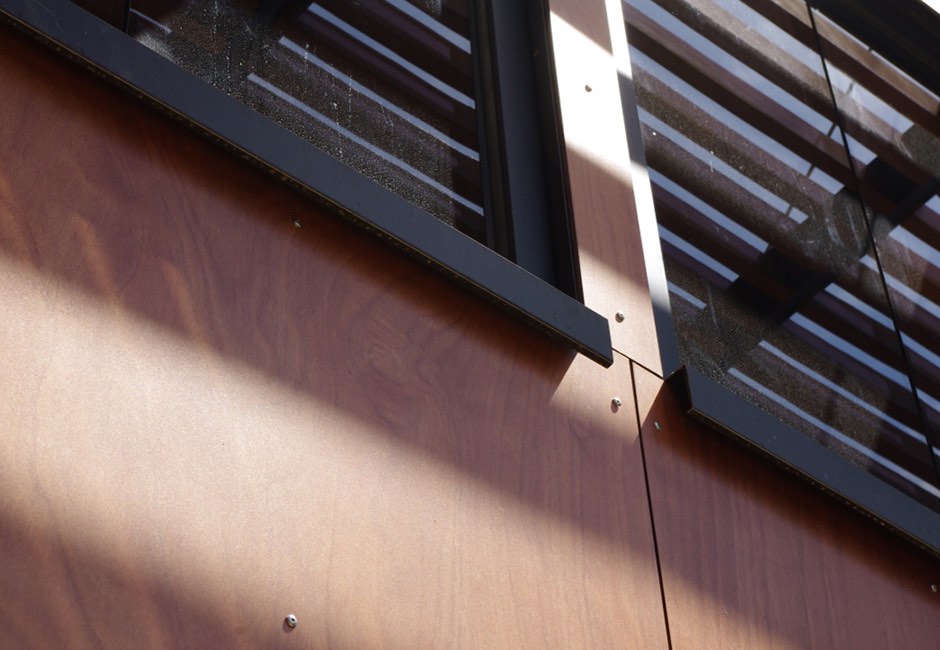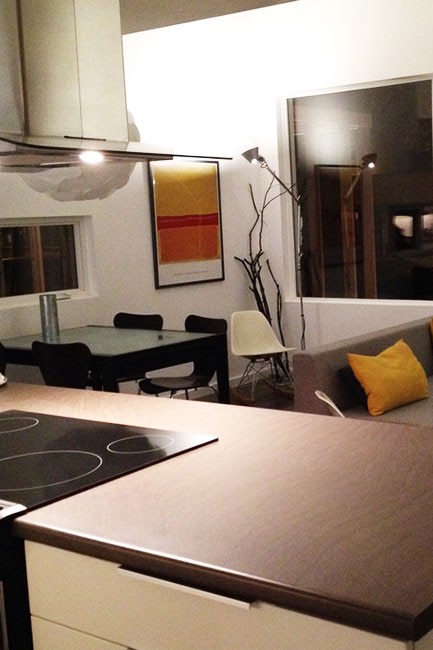 The Luxton Model
This flat packed house came out with siding, windows, electrical and drywall factory applied to the panels. We substantially installed it in one day, and spent another month trimming it out to completion.
Modern design, super insulated, soaring vaults, 30 options to suit your style and needs, including joining together for multiplexes or adding a completely separate in-law suite.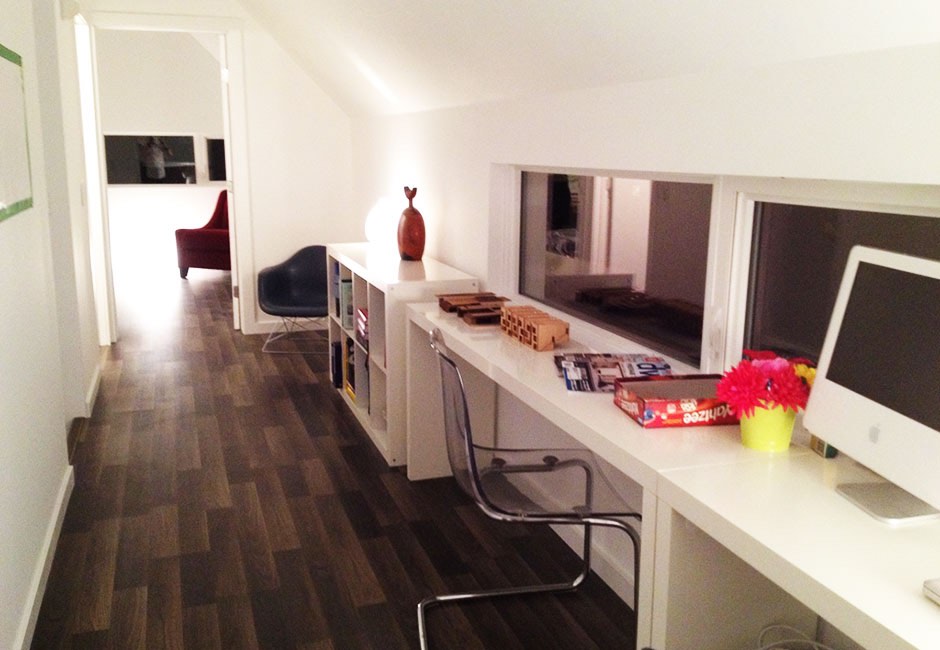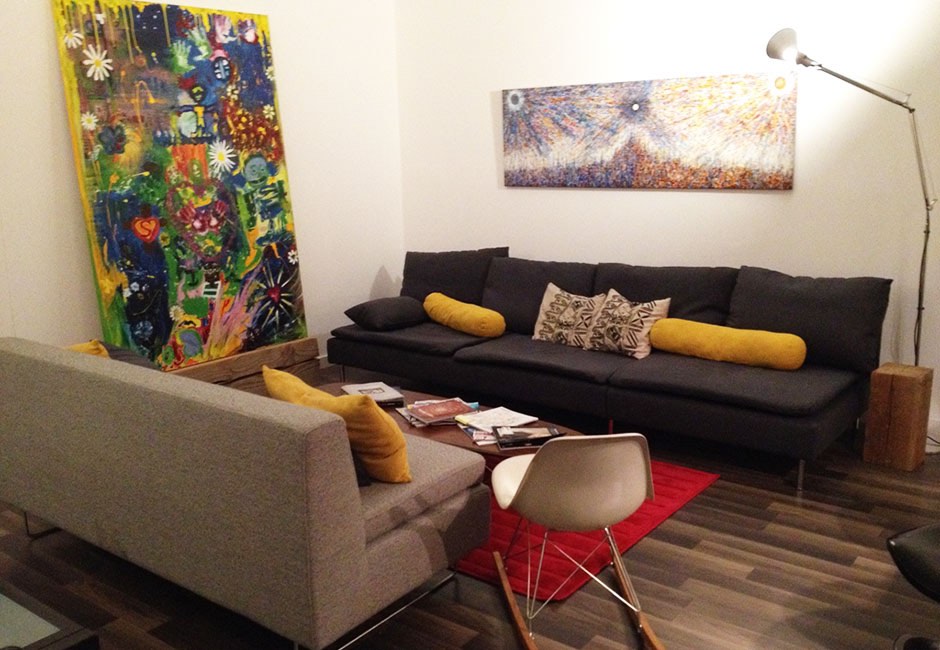 Have some questions? We might have the answer.
FAQ